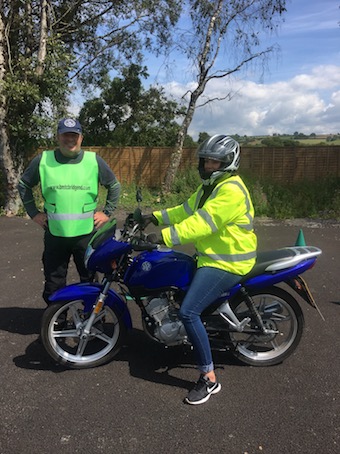 TASTER SESSIONS:
If you're not sure whether you want to complete a full CBT or not, then why not try one of our hour long 'taster sessions'. For just £25 you can have an hour long session to just 'get you going'. We emphasise that this is not a structured lesson as such, but is designed to give you a taste of what you are likely to experience on the CBT course and to get you riding. Yes, we can do it in just an hour!!
We also recommend a taster session for those who are intending to complete a CBT but have never ridden before. By undertaking an hours training the 'taster session' just prepares you for your CBT and will make your day a far more enjoyable experience as you will have some basic control and knowledge of the machine, especially if you are intending to ride a geared machine and have never done so previously.
See our latest feedback on a taster session:
110817:KAYLEIGH: "HAVING NEVER EVEN TOUCHED A MOTORBIKE, THIS WAS A GREAT WAY TO GET STARTED AND BUILD UP A LITTLE CONFIDENCE. 1-2-1 TUITION WAS FANTASTIC AND FRIENDLY. I REALLY RECOMMEND THOSE THAT HAVE BEEN IN MY SITUATION, WHO ARE THINKING ABOUT DOING THEIR MOTORBIKE TRAINING - HAVE A TASTER SESSION FIRST! ABSOLUTELY WORTH IT".
After just half an hour on a taster session this is what one of our most recent trainees achieved. CBT course is the next step!! Take a look at this short video clip.
Book your taster session here: